Koh Ha
Dive Site Description
Koh Ha marine park, consists of 6 islands. Because these islands are uninhabited, the visibility is usually around 20 m. These steep rock formations plunge into the water until a depth of 35 meters, at the deepest parts. Therefore divers of all levels can find great dive sites here. The islands have some stunning scenery, above and under water. A sheer blue laguna next to a white sand beach and giant rocks. Especially a good area for snorkelers and for students who start to dive, the Laguna also offers though special macro life, like sea moths and frog fish and amazing visitors like whale sharks. Under water there are beautiful soft corals on the walls. This area has around 12 different dive sites, so you can dive here more times and see different things. At Koh Ha Yai you can find the famous Cathedral Cavern and Secret Garden.
The only boats going out for diving to Koh Ha, are the one's from Koh Lanta, therefore it is more quiet there then in Koh Phi Phi area. Because there is an active marine park, actually patrolling the marine park, divers need to pay 600 Thai Baht per diving day and snorkelers 400 Thai Baht per day for this dive site.
Minimum diving qualification:-. You can even do your PADI Open Water Course or a Try Dive PADI DSD) here.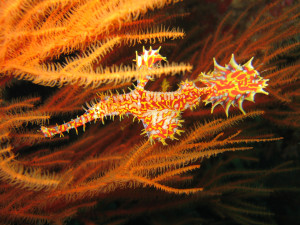 Marine Life
barracudas
ghostpipe fish and pipefish
turtles
porcupine and puffer fish
harlequin shrimps
sea moths and nudibrands
scorpionfish and lionfish
sometimes: whaleshark
These islands are open between the 15th of October and the 15th of May (our season). Because of their remoteness and the spawning of our fish in our green season, the marine park is closed during the other months.