Koh Phi Phi
Dive Site Description
Although Koh Phi Phi (or Koh Pee Pee) is a busy island, it also has very nice views from the boat and some nice dive sites. Around Koh Phi Phi (Koh Pee Pee) there are around 10 different dive sites (including Koh Yung area). Because the under water environment is more rocky, has more hard corals and many different swimthroughs, they are especially nice to practise your buoyancy and do macro photografy. Easy diving dive sites, therefore great for first time divers and snorkelers. At the Palong dive site you have good chances as divers and snorkelers to see black tip and leopard sharks. Most turtles live around Phi Phi Lay (the big uninhabited island, where you can also find Maya Bay from the movie 'the Beach'). Around the corner divers can dive on the quieter Koh Yung Pinnacle (which can only be dived around half moon, else the current is too strong and visibility bad), the shallow statues dive site and Hin Klai / Karen Heng, which are all good locations for stingrays and leopard sharks. Depth: between 0 and 20 meter. Except for Koh Yung Pinnacle and the Kled Kaew wreck. New: the Thai government has sunk 2 years ago a ship, the Kled Kaew. Because of her depth (13 – 30 meter), this wreck is only diveable for advanced divers or student divers on an advanced divers course. In the last two years corals have covered the wreck, this results in a beautiful colored dive and a quest to find the plenty scorpion fish, lion fish and frog fish.
OWD Required, Try Dive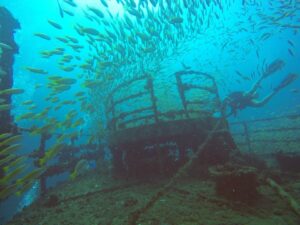 Marine Life Koh Phi Phi
leopard sharks
giant Gregorian sea fans
turtles
porcupine and puffer fish
different kind of shrimps and nudibrand
morray eels and octopus
After the 2004 Tsunami a lot of reef was destroyed in shallow area around Koh Pee Pee. Since that time artificial reefs, reef planting and the new wreck have resulted in a lot of new corals. Because of these new corals, many fish is gathering again in the previous destroyed area's. Black tip sharks live here in very shallow water. Because of this, divers and even snorkelers can see them. Black tip sharks are not dangerous and do not eat humans.