Koh Rok & Hin Luang
Dive Site Description Koh Rok
Hin Luang is on the way to Koh Rok and is a small under water mountain, full with yellow soft corals. Although this is not a registered dive site, we like this deep pinnacle because of the amazing fish life and nobody else dives there. Koh Rok is a marine park, because of the amazing old coral formations and the monitor lizzards, which live on the island. The two islands have around 4 different dive sites, ranging between 0m. and around 35m. Travel time is around 2 hours by boat from Koh Lanta.
Hin Luang starts around 17 m. and the deepest point is around 40m. Therefore this dive site is only available for advanced divers. Koh Rok is also available for novice divers and snorkelers. Be aware that Hin Luang is not always diveable. When the current is too strong or the waves are too high, we will not dive there.
Unless the water temperature cools down, we are currently (2016/2017) not setting up any trips to Koh Rok. The corals are bleaching and fish are disappearing, which is not a good sign for a healthy reef. Hopefully this next season with El Nina, we will get some colder currents in and the corals will have a chance to restore. Global warming has affected especially this area a lot.
AOW Required, OWD Required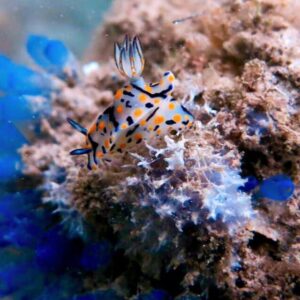 Marine Life Koh Rok
On occassion: whale shark or manta
big school of barracudas and batfish
Beautiful soft corals
travelly's, jacks, wrasses
giant morray eels
everything else you find on other sites
Currently (2016/2017) we are not diving here, to give these dive sites a much needed rest.